CNN
 — 

2022 hasn't always been an easy year. But, as it comes to an end, people from around the world have been telling CNN what's giving them hope for 2023 – from their own exciting plans, to potential scientific breakthroughs, and the promise of the next generation. Here are their stories.
I hope my mother recovers her health. She suffered a subarachnoid hemorrhage two weeks ago. I'm close to my mother, so I was very confused and sad. But now she's in a healthier condition, so I'm more relaxed. Other people have said it was a miracle. I just need some cheer!
Yeon hee Jang, South Korea
I just hope I get a chance for the first time to travel to the United States in 2023 to be with my sister and family. We have been apart for 30 years – they came to the US due to the war in the northern part of Uganda, and I grew up with my grandmother and uncle. Unfortunately, I have tried applying for different visas but all in vain. However, I remain hopeful and optimistic that things will work out some day and I will be able to make this trip a reality.
Ben Katende, Uganda
As a person with ALS (amyotrophic lateral sclerosis – a progressive nervous system disease), who took care of a husband who died of ALS, I am hoping for a cure. I was diagnosed in January 2022 and have pretty much lost the use of my arms, and some speech is slurred. My husband passed in 2011 from ALS, and I never thought it would be my fate as well since it is so rare. I take three ALS medications and am participating in a trial to help advance research in case one of us carries the gene, which would affect my son. We are making the most of life, living each day and hoping for a cure. ALS patients don't have time to wait.
Colleen Van Natta, United States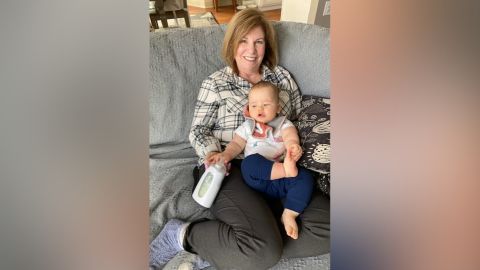 I'm taking a 200-hour yoga teacher training course in the first quarter of 2023, and I'm so excited about this journey. I never practiced yoga until the pandemic came, and I needed to move my body and relax my mind in the uncertainty of those early days of lockdown. I couldn't even touch my toes back then, but ever since practicing, my head is clearer, my body is stronger, and I have become more present in the moment.
I hope to become a yoga teacher for my community — specifically for children and teenagers, so the next generation of youth can have the tools to handle stressful moments and focus on the present. The pandemic has done a lot of damage to kids' overall mental well-being and I would love to help them through the practice of yoga.
Nikki Natividad, United States
I'm incredibly hopeful for my future! I'm going to Italy in early 2023 to be with this huge love of my life, after reuniting in 2022 after 30 years. He was an exchange student in 1992 where I was going to high school. We fell in love then, but of course he had to leave and go home to Italy. I was supposed to go over after I graduated, but life, fear and immaturity got in my way.
He came to see me in 1996, when I had just gotten married and had a one year old daughter. Over the years he contacted me a few more times, until about a dozen years ago, when I said I couldn't see him and he shouldn't contact me anymore. He respected my wishes, but on Dec 31 2021 he sent me an email, and left me a few voicemails in the spring. I finally emailed him back, knowing if I did it would completely complicate my life, and the rest is history.
I separated from my husband this summer, and spent a month in Italy in the fall. I will go back and forth until I can get the appropriate visa to stay longer – this time, and at this age, we refuse to miss our opportunity to finally be together. Such a dream for us, and we are so grateful to have found one another again after decades of being apart.
Louise Dressel, Canada
My hope is that I can continue giving my boys a good life. Making memories and hopefully buy a house. I went back to college in October of 2022. I plan to complete my degree and show my boys it's never too late to do what you want to do. This last year has been tough as a single parent but I'm not giving up.
Heather Getz, United States
My hopes are in my seven-year-old grandson. He is deaf and unfortunately also lost his mother when he was 18 months old. Despite this, however, he is a very sunny child, happy to live, full of friends. He is a child who gives me hope because he looks to the future with hope. He gives me hope because if the new generation of children will be like him, resilient and optimistic, than the world will be a better place.
Ilaria Pandolfi, Italy
My hope for 2023 is that we finally start to respect other human beings without basing it on their religion, gender, or sexual identity.
I've noticed my generation and honestly even my mom's generation (1978-1995 and beyond) are definitely more vocal about standing up for what's right and wrong. When someone is bullied based on sexuality or religion, you see a huge influx of celebrities and even regular people within that age group speaking against it. There's definitely hope for the future!
Alija Bulbul, United States
I hope to study for a master's program at Chester University (in England) on my dream course, electronic and electrical engineering, and I have already secured a place for fall 2023. I hope to develop my electrical engineering firm, Phrank Solutions, to be competitive in my country Nigeria and internationally, and I aspire to be an employer.
Echezona Chukwuma Ifeonu, Nigeria
I live in Ukraine, and the men from my family are on the frontline defending our land, lives and democracy for the whole world. My biggest hope is that we stay alive and defend our people and country. And I hope Ukraine will be safe for us again one day and my husband returns, so that we can gather our families for a wedding ceremony and started fulfilling our plans that got delayed by war. I hope we finally buy an apartment or a house of our own and start trying for a child.
But for now, we all need to focus on working and fighting for our freedom. Despite the fact that we are all in danger, most people around me are keeping a positive attitude to life and trying to do our best. Sharing this hope with my family and feeling their support helps me move forward and believe in the best possible outcome for us.
Olha Korniienko, Ukraine
The leadership of young people of diverse races, cultures, backgrounds, religions, sexualities and economic statuses brings me great hope. Pete Buttigieg, Olivia Julianna, Greta Thunberg are a few of them, but the list is long. We need forward-looking, forward-thinking people who learn from the wisdom of the past but plan for the future. I believe that many young people are focused on finding solutions to the problems of today. They are tireless and intelligent. They know how to communicate. They are our only hope.
Marie Bourque-Namer, United States
I hope that all countries will think selflessly and focus on sustainability, global warming and resources protection. Extreme weather is impacting all countries, and plastic waste is a big issue. I think more and more people and companies will know they have to start somewhere in 2023. And 2023 is the United Nations International Year of Millets, so more people will become aware of the need to have fiber-rich foods and the importance of plant protein.
S. Murugan Narayanaswamy, India
It has always been my dream to study abroad, especially in the US. I want to become a surgeon in the future, so I'm planning to do pre-medicine during my undergraduate studies, then proceed to medical school, then after that I will specialise. In order to achieve all this I have to get admission and full financial support at a college or university in the US, which I'm hoping will come to pass in 2023. I am hopeful because I believe in myself, my mother believes in me and my family members are constantly praying for me. There is no stronger force than that of family support that can make you believe.
Tatenda Kasitomo, Zimbabwe
I have hope for the rise of regenerative agriculture and examples of holistically managed land. I believe that regenerative agriculture will be the "it" thing next year because of climate change, the energy crisis and inflation. We need to produce food locally, shorten the distribution chain and not be so dependent on oil, and we need many more people to become farmers. The holistic management movement is growing rapidly in the US, Australia, parts of Africa and now also in Europe. The impact it has made both socially and ecologically is just wild and so impressive.
Gabriel Liljenström, Sweden
The Covid-19 pandemic and Russia-Ukraine war have shown that the entire world, not just developing countries, are vulnerable to economic meltdown, energy crisis, and climate change. I hope the world will in 2023 come together under the UN to drastically, honestly and apolitically solve all ongoing and pending global challenges.
Matawalli Ajagana Geidam, Nigeria