The 2023 Women's World Cup is in full swing, and these daily files give you the latest reporting from around the tournament as well as betting lines, what-to-watch-for information and best reads. Check in with ESPN throughout the tournament as we bring you the latest from Australia and New Zealand.
---
The lead: And then there were 16 …
After 32 teams began their 2023 Women's World Cup campaigns 14 days ago, half of them have already been sent home, including Brazil and Germany.
Instead of those two heavyweights, Jamaica's and Morocco's women's teams have made it to the round of 16 for the first time. What's more, Morocco are one of three African teams to make it out of their groups this year.
Reigning champions the United States made heavy work of reaching the knockout phase, and France, the Netherlands, European champions England and co-hosts Australia are among the other pre-tournament favourites who made it through.
However, it is Japan who are the tournament's top scorers so far with 11 goals (and zero conceded) from their three group stage wins. They account for almost 10% of the 126 goals scored in the 48 matches that have been played to get us to the round of 16.
ESPN's writers on the ground in Australia and New Zealand take us through each of the round-of-16 fixtures.
– Women's World Cup: Landing page | Schedule | Rosters | News
– How teams qualified for the round of 16
---
News of the day
---
Today in USWNT camp
As the U.S. women's national team continue their campaign to win their fifth Women's World Cup, there's one aspect of this tournament that feels different from all the previous ones: The USWNT aren't fighting with their bosses for better pay.

During and after winning in 1991, 1999, 2015 and 2019, the U.S. women were embroiled in protests and boardroom arguments about being getting compensation comparable to that of their male counterparts. The issue came to a head at the most recent previous World Cup in France when the USWNT lifted the trophy and fans at Stade de Lyon chanted, "Equal pay! Equal pay!"

But this time around, it's a fight the USWNT aren't involved in. Instead, we see it within teams such as Canada, England, Jamaica, Nigeria and South Africa, where players are fighting with their federations over a lack of equal pay and equal support compared with their male counterparts.

So why aren't the USWNT talking and campaigning for equal pay this time around? And how much money will they earn during this World Cup?
ESPN's Caitlin Murray explains where things stand regarding equal pay at the 2023 Women's World Cup.
Williams: The USWNT will be a scary thought when team clicks
Lynn Williams says the USWNT is embracing the pressure it faces at the World Cup.
---
Match previews for round of 16
Saturday, Aug. 5
Switzerland vs. Spain
Eden Park, Auckland; 5 p.m. local / 1 a.m. ET / 6 a.m. UK
Neither Spain nor Switzerland have ever won a knockout game in a major tournament, but that will change when they meet in Auckland on Saturday. The pressure will be on Spain, though, who came into the finals as one of the favourites only to receive a reality check in their final group game against Japan, who efficiently took them apart on the counter-attack en route to a 4-0 win.
Spain coach Jorge Vilda has said it was the type of defeat that marks a team and "will never be forgotten," but he also hopes it will serve as a wake-up call. It has certainly served to increase the pressure on Vilda, who refused to engage with two questions Friday about whether he could be sacked if La Roja fail to progress. He said he felt there is a "negativity" around the national team and called for more support. Captain Ivana Andres is a fitness doubt again, and Alexia Putellas has yet to return to her best after her recent return from an ACL injury.
Switzerland have not conceded at the tournament, and coach Inka Grings said they will look to exploit the weaknesses Spain displayed against Japan by letting them have the ball and being lethal on the counter. That said, she conceded the Swiss need to be much more efficient in the final third than they have been so far. They have scored just twice in three games, with both goals against the Philippines.
Spain will be the big favourites, but Switzerland will look to follow the Japan blueprint to frustrate them and, in a World Cup full of shocks, spring a surprise that would leave Vilda on the ropes. — Sam Marsden
Why Japan can win it all at the Women's World Cup
ESPN FC's Gabe Tan and Sophie Lawson take a look at Japan's impressive performances at the 2023 Women's World Cup.
Japan vs. Norway
Wellington Regional; 8 p.m. local / 4 a.m. ET / 9 a.m. UK
Two different styles will clash in Wellington as Norway take on Japan. The Football Girls had looked out of sorts until their comprehensive win over the Philippines, while conversely Japan have only gone from strength to strength so far this World Cup.
Able to control the tempo of the game on and off the ball, Japan's flexible 3-4-3 shape should allow Nadeshiko to control most of the game, nullifying Norway's already weakened midfield. For Japan, there is a sense that Futoshi Ikeda could switch out half the starting line-up without it disrupting Japan's flow, but this is likely to be another match that showcases Hinata Miyazawa's late runs into the box to overwhelm Norway's back line as well as Yui Hasegawa's superb vision from her home in the heart of midfield.
Caroline Graham Hansen is likely to keep her place in Norway's starting XI and will look to ask questions of the Japanese backline and take on defender Moeka Minami.
The team to beat so far this tournament, Japan should be considered as favourites in this tie. Their biggest problem might be the squad's relative lack of experience in World Cup knockout matches, having fallen at the round of 16 to the Netherlands four years ago. — Sophie Lawson
South Africa captain: Imagine what we could do with investment!
South Africa's Refiloe Jane and Kholosa Biyana speak on women's football development across Africa as South Africa, Nigeria and Morocco make it to the World Cup knockout stages.
Sunday, Aug. 6
Netherlands vs. South Africa
Sydney Football Stadium; noon local / 10 p.m. ET [Saturday] / 3 a.m. UK
It's hard not to root for South Africa at this World Cup. They stood up well in a close loss to Sweden, drew with Argentina and then beat Italy in a thrilling back-and-forth decider to advance from the group stage for the first time. All along the way, they've danced and sang, even as forward Thembi Kgatlana revealed that she lost three family members while she was abroad for the World Cup but chose to stay to support her team.
But underdog likeability and good vibes won't be enough to get Banyana Banyana past an experienced and skilled Dutch side. Netherlands enter the round of 16 having just dismantled Vietnam 7-0 in the most lopsided result of the group stage and nabbed a well-earned 1-1 draw with reigning champions the U.S. The loss of prolific striker Vivianne Miedema before the tournament hasn't been the setback some have feared as Esmee Brugts, Jill Roord and Lieke Martens have all stepped up.
This Dutch side looks every bit as good as the one that came runner-up at the 2019 World Cup, and the South Africans certainly have their work cut out for them. Expect Netherlands to comfortably advance. — Caitlin Murray
Do Sweden have 'mental edge' over USWNT?
Sweden's Nathalie Bjorn and Johanna Rytting Kaneryd share their thoughts and experience about playing the USWNT.
Sweden vs. United States
Melbourne Rectangular; 7 p.m. local / 5 a.m. ET / 10 a.m. UK
The round of 16 seems too soon for the teams ranked No. 1 and No. 3 teams to meet at a Women's World Cup, but that's what happens when one of the sides — in this case the U.S. — doesn't take care of business and finishes second in the group stage.
None of this bodes well for the Americans. Sweden has historically been a thorn in the U.S. team's side, having beaten the USWNT at the 2016 and 2020 Olympics, the latter of which was a 3-0 shellacking. Sweden's Stina Blackstenius was among the goal scorers in both of those matches, and although she has just one goal so far in this World Cup, she'll be among the players to watch.
The question for the Americans is: can they get their attack closer to top gear in this matchup? So far, the American attack has looked rather subdued, especially in the 0-0 draw against Portugal. And with Rose Lavelle suspended, the challenge will be creating chances with Savannah DeMelo or Ashley Sanchez at the controls.
Expect this match to be a typically tight affair. Each team has conceded just once so far, but look for Sweden to edge the U.S. 1-0 and announce themselves as serious title contenders. — Jeff Carlisle
Nigeria legend Akide warns to beware Lauren James and co.'s crafty play
Mercy Akide, who played in Nigeria's first-ever game against England in 1995, has warned the Super Falcons to beware England's sharp, technical game in midfield.
Monday, Aug. 7
England vs. Nigeria
Lang Park, Brisbane; 5.30 p.m. local / 6.30 a.m. ET / 11.30 a.m. UK
England head into their round-of-16 clash with Nigeria with the benefit of having 22 of their 23 players fit, with the only absentee Keira Walsh, who continues her recovery from the knee injury she sustained against Denmark.
England's dominant 6-1 win over China set the benchmark in terms of performance and clinical finishing, but they'll have to back that up against the Super Falcons.
Nigeria coach Randy Waldrum was called an "incompetent loudmouth" by his own federation after he laid into it on the eve of the World Cup, but since then he has led the team to the round of 16 thanks to a 3-2 win over Australia — the winner coming from star player Asisat Oshoala, who started on the bench but came on to guide them home — and a pair of 0-0 draws with Canada and the Republic of Ireland.
England have looked vulnerable to teams who play on the counter-attack, but their shift to a 3-5-2 formation seems to have given them more solidity while at the other end of the pitch. It produced that flurry of goals against China with Lauren James at the forefront of their attack. Nigeria head into this match as underdogs, but, as we've seen, this is the World Cup of upsets and England will be wary of joining the growing number of superpowers leaving the tournament early.
I expect England to progress but to get a scare in the process. — Tom Hamilton
Is Cooney-Cross the best Matilda no one is talking about?
The Far Post podcast discuss the standout performance from Kyra Cooney-Cross against Canada, and how well she fits in the Matildas midfield.
Australia vs. Denmark
Stadium Australia, Sydney; 8.30 p.m. local / 3.30 a.m. ET / 8.30 a.m. UK
One of the more expected clashes in this round of 16, the Matildas take on Denmark in Sydney. The hosts could have so easily ended up in Brisbane facing England or out altogether in the group stage, but instead they have a chance to equal their best result at a World Cup with a win on Monday. Meanwhile, Denmark's return to the world stage for the first time since 2007 has been tidy. Predictions of the Danes finishing second in Group D behind England came to fruition with little fanfare or fuss.
The last time these sides played was the beginning of Australia's turn in form back in October 2022. A Caitlin Foord brace and a Katrina Gorry wonder-strike cancelled out Karen Holmgaard's first-minute opener.
This match may well be decided by two former Chelsea teammates: Sam Kerr and Pernille Harder. The difference between the two sides, however, is that it feels as if, in order for Denmark to progress, Harder has to be at the centre of it. Australia has shown that they can win without Kerr — and can do it convincingly, as Canada found out.– Marissa Lordanic
'Determined' Jamaica reach WC knockout stage for first time ever
Joey Lynch recaps a "momentous" goalless draw between Jamaica and Brazil that sends the Caribbean nation to its first-ever World Cup knockout match.
Tuesday, Aug. 8
Colombia vs. Jamaica
Hindmarsh, Adelaide; 8.30 p.m. local / 4 a.m. ET / 9 a.m. UK
Few would have anticipated that Colombia and Jamaica would be facing off in the round of 16, but World Cups are a time for twists, turns and fairy tales to emerge. And dismiss these teams at your peril, for both have well and truly earned their place in the knockout phase.
Wins over South Korea and Germany have announced Colombia as a side that can face up to anyone on the world stage. Led by 18-year-old sensation Linda Caicedo, this is not only a side that features the talent to make noise in this tournament but also one that has enough young talent coming through to become South America's new force.
However, profligacy in front of goal has been a problem for this side in the past — they couldn't find a way past Morocco in their final group game — and that could be an issue against a sturdy Jamaica.
The Reggae Girlz are one of only three sides yet to concede a goal so far in the tournament, blanking France and Brazil in the group stage. Admittedly, they don't score much either — just once against Panama so far — but they still have Manchester City star Khadija Shaw leading the line. And their defence means they might only need "Bunny" to score once — Joey Lynch
How Morocco secured a historic spot in the World Cup knockouts
Sophie Lawson reacts to Morocco's progression to the round of 16 on their Women's World Cup debut.
France vs. Morocco
Melbourne Rectangular; 6 p.m. local / 7 a.m. ET / noon UK
Reynald Pedros, the Morocco head coach, swears he always believed his team could qualify for the round of 16, even after their drubbing by the Germans in their opening match. "After we lost 6-0 against Germany, for 98% of the people, we were finished," he said. "Not for us."
The former Lyon manager is inspiring this generation of Moroccans, who — like the men's side at the 2022 World Cup in Qatar — are making their country proud. "We don't want to stop here, though," he told ESPN. "Now, it is the knockout games, everything is possible. I know this French team so well, it is an advantage for us."
Of the 13 members of his squad who play abroad, six are in France, so they will also be familiar with Les Bleues. Some are even dual nationals, holding passports for both countries. It will be a special game for historical reasons, but also for sporting ones. The France men's team beat Morocco in Qatar in the semifinals, giving an extra bit of texture to this game in Adelaide.
Les Bleues, who haven't faced Morocco since a friendly in 2006, won't take anything for granted. They fought too hard to get here to get complacent, and coach Herve Renard is too experienced in major tournaments to let that happen. Several key players — Eugenie Le Sommer, Wendie Renard, Sandie Toletti, Sakina Karchaoui — will return in the starting XI, and Herve Renard will put his strongest team into his preferred 4-4-2 formation. France will approach the game with a lot of confidence, but Morocco have the belief that they can stun the world again. — Julien Laurens
---
Features of the day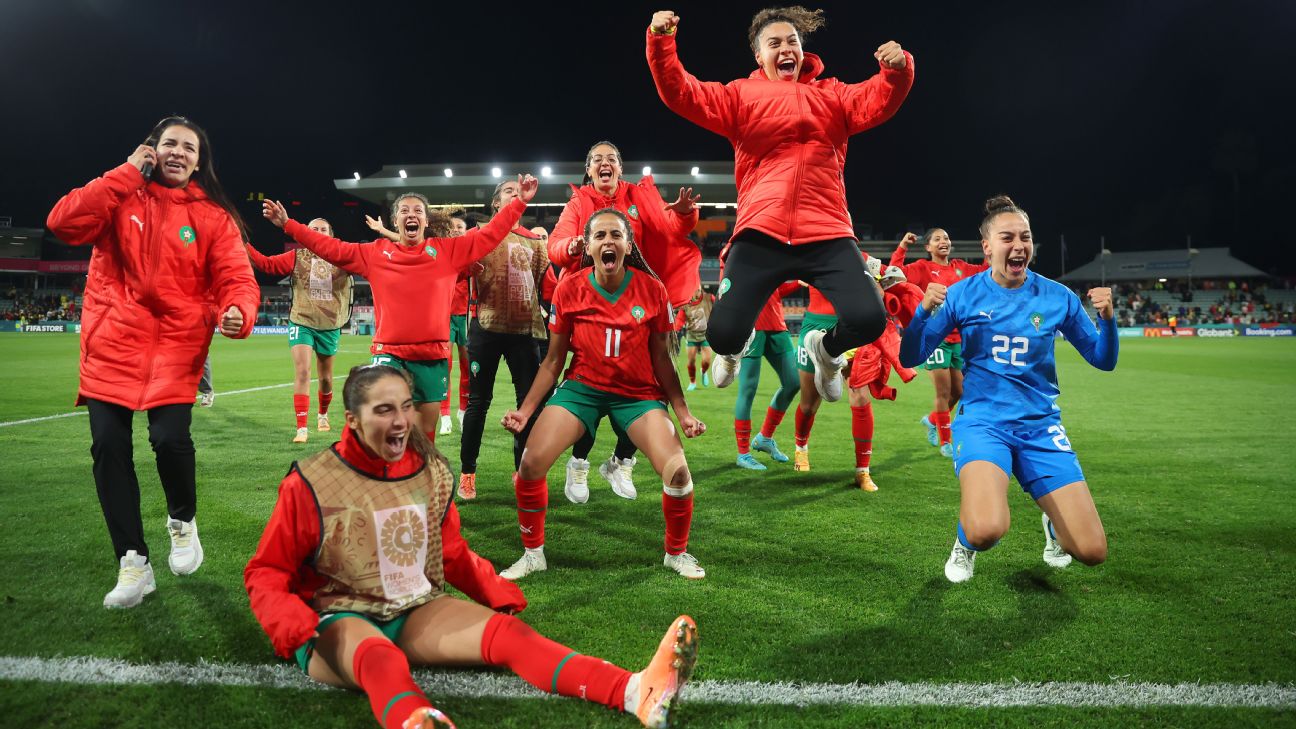 Women's World Cup group stage highlights, fave moments
While Marta's sixth World Cup could have been one too many, there will be questions on whether Pia Sundhage is the right coach to lead Brazil.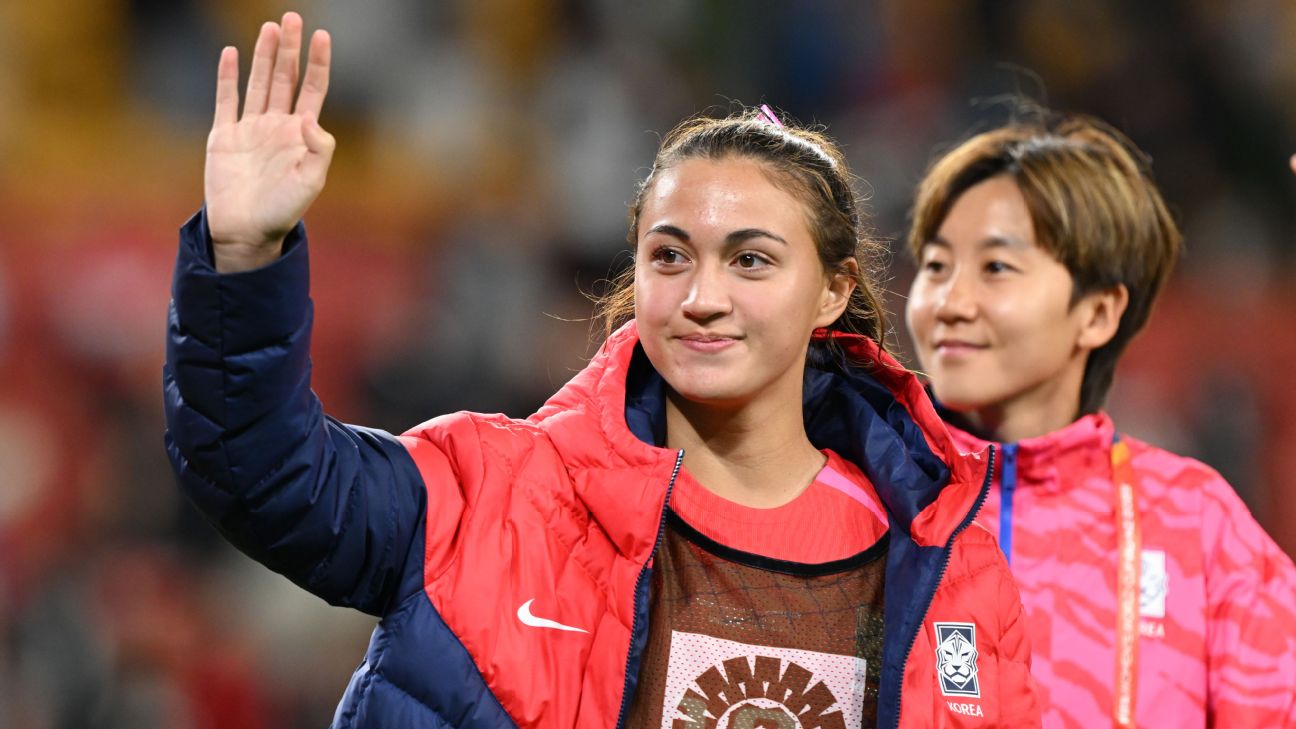 Youngest 2023 World Cup players: Phair, Dragoni, Scott
South Korea's Casey Phair and two other 16-year-olds made their World Cup debuts. Here's what you need to know about these rising stars.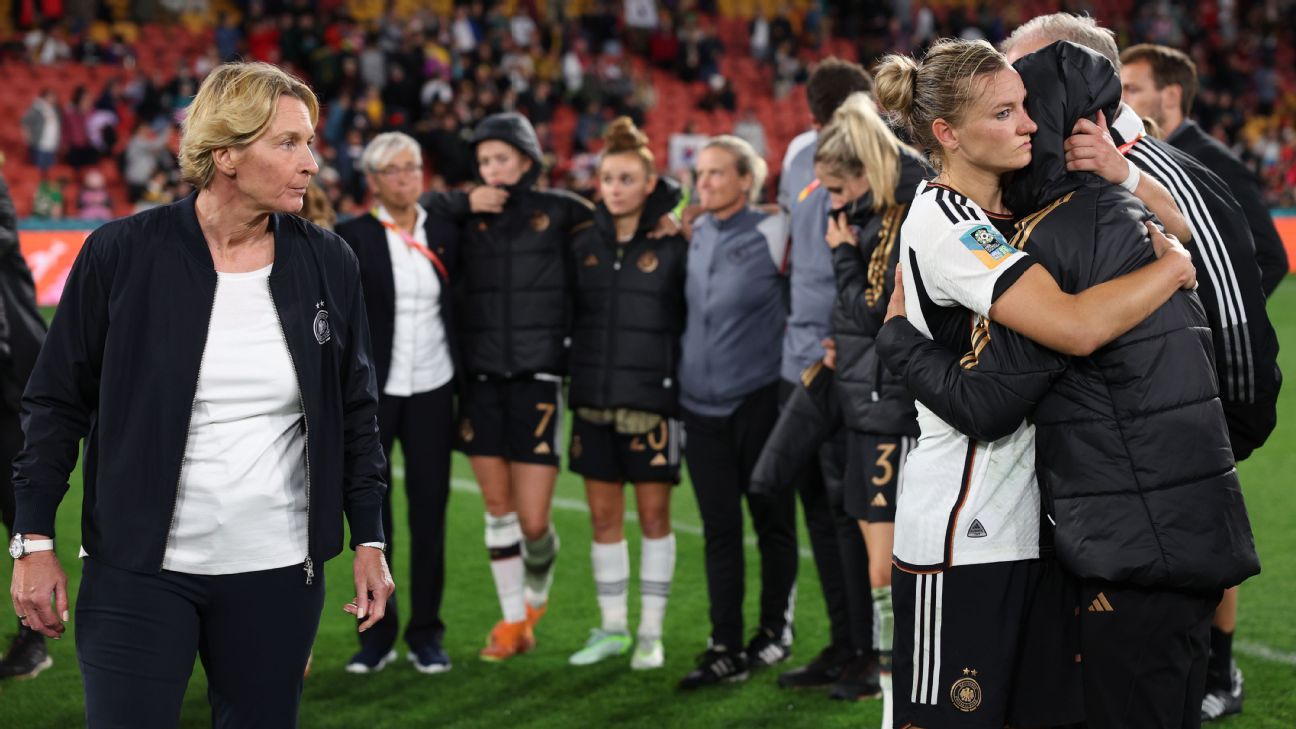 Women's World Cup exit continues Germany's horrible year
Germany's men and U21s have struggled in recent months. Now the women's team going home early. What's going on?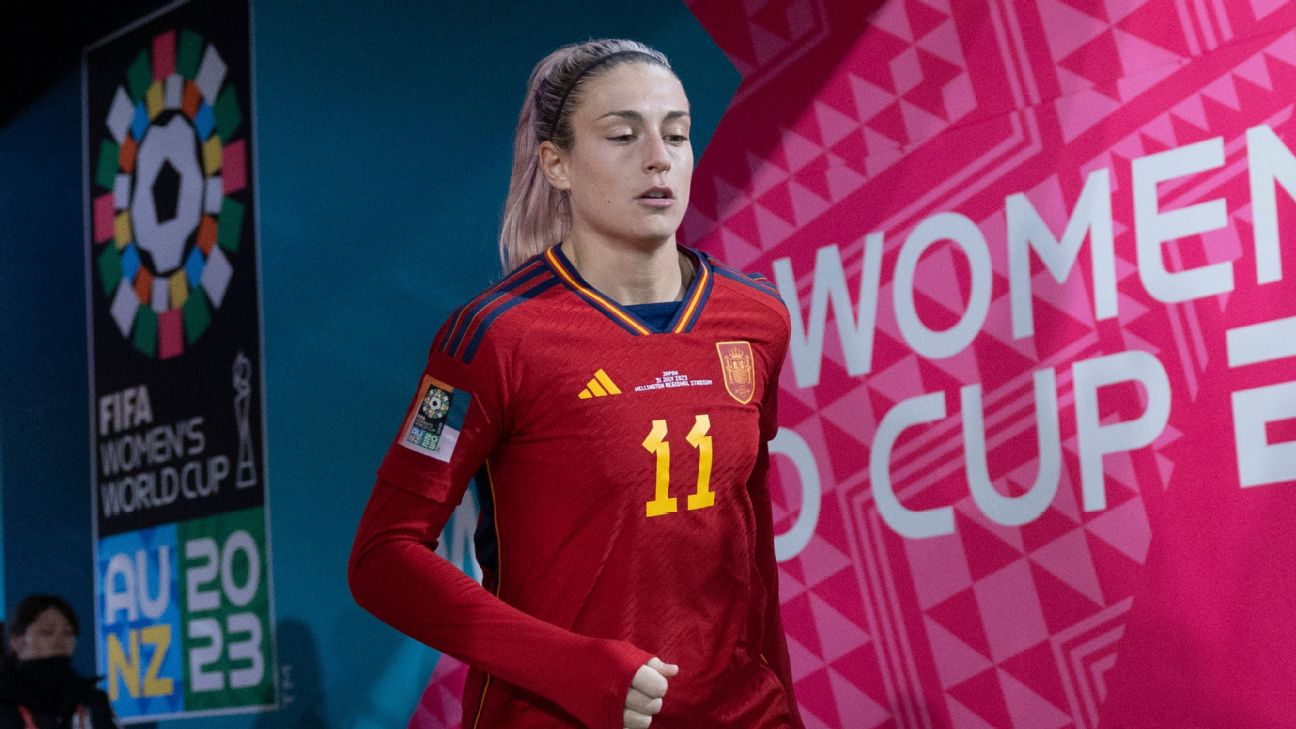 Putellas key to Spain World Cup hopes after injury recovery
Spain's back-to-back Ballon d'Or winner Alexia Putellas has had a long recovery from injury and is desperate to make her mark at the World Cup.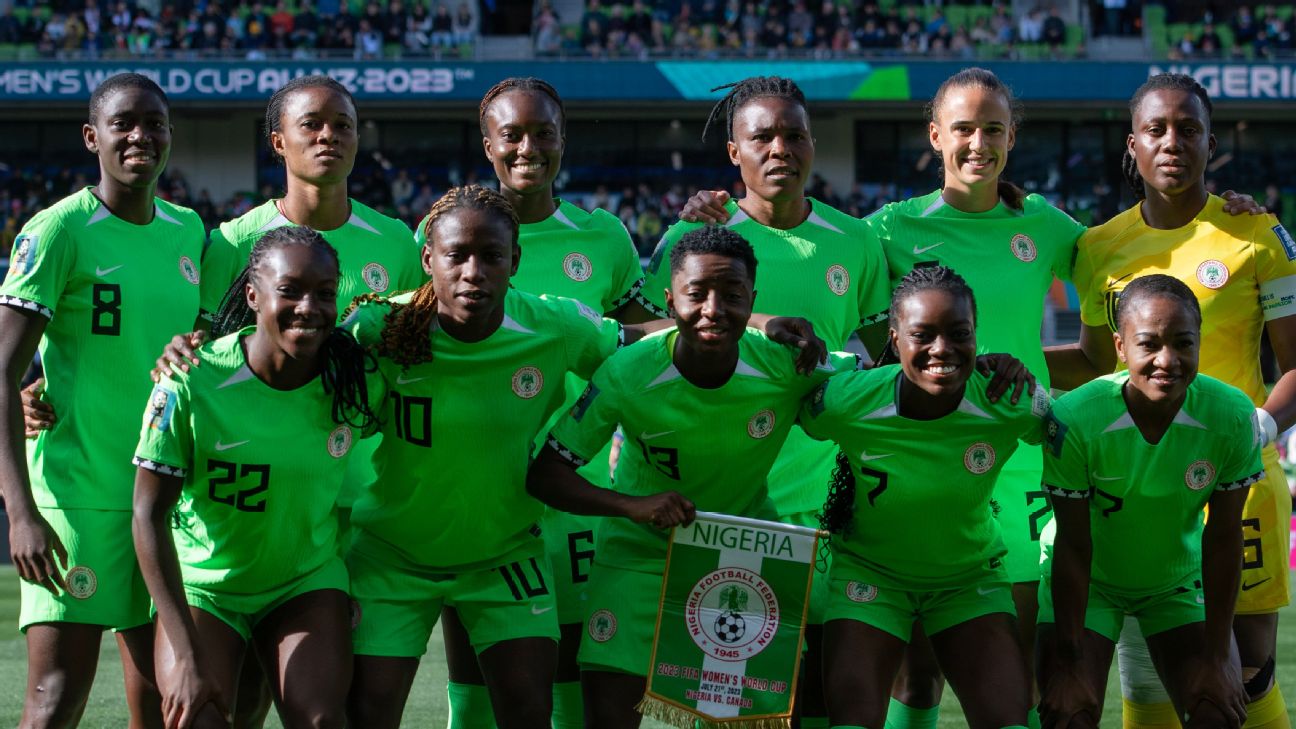 Nigeria have chance to reach rare World Cup quarterfinal
It has been nearly 25 years since Nigeria made it to a Women's World Cup quarterfinal. Mercy Akide, the star of that team, gives her thoughts on the threat that England and Lauren James pose.
---
And, finally …
Japan star Hinata Miyazawa is leading the Golden Boot race at the 2023 Women's World Cup with four goals to her name so far. The 23-year-old midfielder is top of the goal-scoring charts after registering twice in her country's opening 5-0 thrashing of Zambia and then repeating the feat with a brace in the 4-0 win over Spain in Japan's final group stage outing.
Germany captain Alexandra Popp is level with Miyazawa after scoring her fourth goal of the tournament in Friday's Group H match against South Korea. The Wolfsburg striker then thought she had scored her fifth to give her country a crucial 2-1 lead in Friday's match, only to have it ruled out by a marginal VAR call. That condemned Germany to a shock group stage exit and denied Popp the opportunity to further enhance her bid for the Golden Boot.
However, no fewer than five players still active at the tournament have scored three goals. All in that quintet are within striking distance of equalling the tallies of Miyazawa and Popp as we head into the knockout rounds.
ESPN's Chris Wright looks at the race for the 2023 Golden Boot, how the award is decided and the history of the prize at the Women's World Cup.