NEWYou can now listen to Fox News articles!
The F-15EX has one major job: to stick it to China, if Xi Jinping is foolish enough to try a military attack anywhere in the Pacific. 
Last week, the Air Force confirmed that the F-15EX Eagle II fighter completed tests out over the Gulf of Mexico, demonstrating that it can carry up to 12 air-to-air missiles under its wings at one time. That's a record no other Air Force plane can match.
Call it the Dirty Dozen. You don't want to be the Chinese pilot facing that kind of firepower. This is a big deal, because deterring war in the Pacific pretty much boils down to missile shots.   
On top of this, there's another new weapon for the F-15EX that caught my eye: the Air Force's hypersonic boost-glide weapon, nicknamed Arrow. 
US AIR FORCE'S NEW F-15EX BREAKS KEY RECORD AS THREATS AGAINST AMERICA GROW
So just how did a 1970s-design fighter link up with a 21st-century hypersonic missile? Emergency measures, I assure you, driven by the serious threat from China.
The original F-15 first flew in 1972 and is still the last word in cool. In air combat, F-15s have a spotless record of 104 to zero, if you include Israeli and American kills against enemy fighters over the years. The ground-attack variant F-15E Strike Eagles (sometimes called the Mudhen) have piled up combat successes over Iraq, Afghanistan, Syria and more.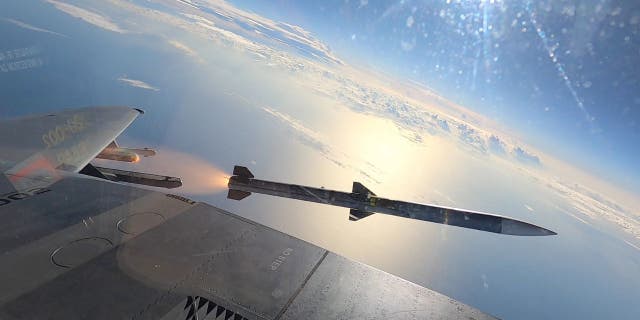 By the way, I flew in the backseat of an F-15D for an hour of simulated dogfighting off Guam a while back, and let me tell you, the jet is indescribable. The heavy gravitational forces, the turns, the shuddering sounds of the twin tails… the faint rubbing alcohol and Tootsie Roll smell of the oxygen mask… breathtaking. 
But the F-15 is an old warrior. Even the ground-attack F-15Es date from the Reagan administration. Enter the F-15EX. Having failed to buy new stealth fighters fast enough, the Air Force made a stop-gap decision in 2019 to purchase the F-15EX. 
AMERICA'S NEW B-21 RAIDER HAS 4 BIG SECRETS CHINA WANTS TO STEAL
And that's good news for deterrence in the Pacific. The F-15EX can carry under its fuselage the large, new hypersonic weapons – like the one tested by the Air Force B-52 on Dec. 12, 2022. Pay attention to this weapon. The Advanced Rapid Reaction Weapon – called Arrow – is very fast. It flies at least Mach 5+, which is about 3,800 mph, and aviation pundits speculate it might be even faster. It's big, which is why a B-52 test-launched it from under its wings. The Arrow is "intended to attack high-value, time-sensitive, land-based targets," according to the Pentagon's test and evaluation office. Think mobile missile batteries, cruise missile sites, air defenses, and that's just for starters.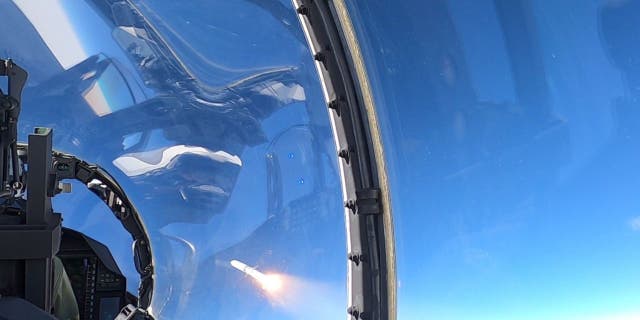 As the Pentagon has known for years, those critical military targets are all up and down China's coastal areas. Lurking there are the amphibious ships, aircraft and other invasion forces menacing Taiwan. Remember last summer when China fanned out forces around Taiwan because they were mad about Speaker Nancy Pelosi's visit? The early stages of a war might look quite similar. To deter, U.S. and allied forces have to be hefty enough to threaten to take out a significant portion of the attacking Chinese forces. 
CLICK HERE TO GET THE OPINION NEWSLETTER
The F-15EX is not your platform of choice if war plans call for attacking targets deep in China. The far stealthier B-2 bomber, F-22 fighter and F-35 fighters, and before long, the B-21, will take on those missions. Case in point: the anti-satellite laser base in Xinjiang province, near Urumqi. According to the Defense Intelligence Agency, this ground-based laser could hit satellites on orbit. That's a nasty weapon if Xi Jinping thinks he can use it with impunity to disable American satellites. 
But for that mass of littoral targets, the F-15EX could be very helpful. There's also a rich repository of littoral targets at China's space launch complex on Hainan Island. And if you've read up on World War II, you recall that airpower is vital to stopping naval activity in the Pacific.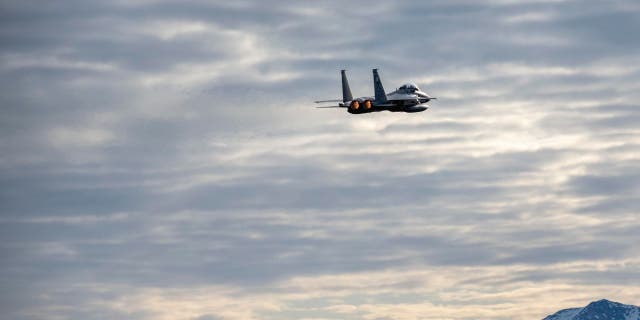 "We have a lot of capabilities we don't advertise," Air Force Secretary Frank Kendall said on Thursday, and "China would do well to be cautious."
CLICK HERE TO GET THE FOX NEWS APP
Sound escalatory? No, this is standard planning, and crucial to conventional deterrence. The Chinese have got to realize that the U.S. and allies have aircraft that can penetrate through their defenses and hold targets at risk of being struck. 
Believe me, it's not that anybody wants this to happen. The fact is that China under Xi has abandoned "peaceful rise" for a level of militarism not seen since the 1950s. Sure, the F-15EX will be just one of many aircraft in the fight, but it's going to take everything America's got to make Xi think twice. 
CLICK HERE TO READ MORE FROM REBECCA GRANT