NEWYou can now listen to Fox News articles!
I studied for the priesthood in Rome, Italy — a place that takes food very seriously. During a silent retreat, the retreat director asked us all to "meditate" on our meal. To think deeply, to contemplate the way it looked, smelled, tasted, and to consider how it connected us to many people and places. Some would call this "mindfulness." For me it was a mind-blowing, sacramental, God moment: a time to remember that God not only became a human, Jesus; but that God also became food. Catholics call it Holy Communion. It's as if God was saying to me, "Food is the answer to everything!" 
This gave me a deeper understanding of why I loved food so much!  Before being a "foodie" was a thing, I always had an interest in it. I cooked with my family for big Filipino-American fiestas. I worked in hospitality during high school and college. It was fun.  
But I never wanted to become a professional chef. I also never grew up wanting to become a priest, either. But God has a way of showing how our interests and hobbies, if put in Jesus's hands, can be transformed and multiplied into a life that serves meals with a message.  
WHAT IS LENT AND THE LENTEN SEASON AND HOW DO CHRISTIANS OBSERVE THE TIME BEFORE EASTER SUNDAY?
In 2024 I will have been ordained 25 years in the Catholic priesthood. For many years I worked in parishes, youth ministry, prison ministry and mission preaching, as well as serving as a professor of spirituality and pastoral theology and preaching for a national seminary. 
All of this was wonderful and fulfilling. But that silent retreat kept calling me to make deeper connections to all people — not just Catholics — using the simplest, yet eternally profound, gift of food. 
Parishioners heard that I had studied some culinary arts while in Italy, and so they'd invite me to dine with their families. It was a soft way of asking for a priest to visit them, to help strengthen their family's faith, and to make stronger connections to a building they called "church."  
In those family mealtime moments, the dinner table transformed into a desk where great lessons were learned, friendships turned into family, and the food became the vehicle to blessed memories. That silent retreat in the seminary helped me to realize that the church is my home and parishioners are my family. This is how the faithful-foodie movement began.  
Over the years, I developed a "theology of food." I study food through the lens of God's salvation history. It's turned into five books, an international weekly TV show called "Savoring our Faith" on EWTN, hosting radio shows and podcasts, interviews on major networks, and invitations from around the world to give lectures while cooking up a dish so people can not only hear the Good News but "taste and see the goodness of the Lord" (Psalm 34).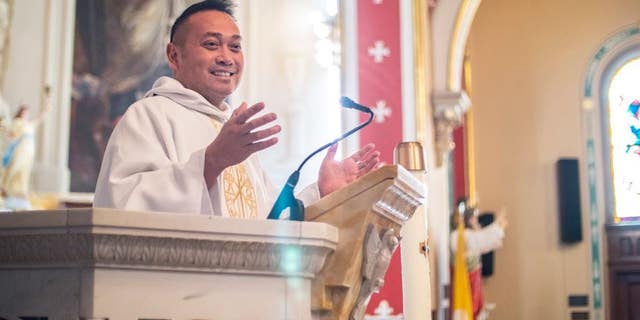 I decided that my mission was "Plating Grace" — making God's grace desirable, appetizing, digestible and Instagram-able. As a Church, we need to do a better job of plating grace for a hungry but finicky flock.  
This food and faith movement gained momentum when Chef Bobby Flay challenged me to a "Throwdown!" which aired on September 9, 2009. Two independent judges declared that my fusion steak fajita bested Chef Bobby Flay's recipe.  
That same evening, over 2 million people visited my website, hungry for more food and faith connections. I received messages and emails from people around the world. Perhaps the most touching was a message from a woman who claimed she hadn't been to church in decades. She said that after watching my show, she went to confession and received Holy Communion for the first time in over 30 years!  
My initial thought was, "I was just cooking fajitas!" But that silent retreat years ago reminded me that simple acts done in Jesus's name can transform ordinary things — like bread and winee — into something extraordinary. 
But I never wanted to become a professional chef. I also never grew up wanting to become a priest, either. But God has a way of showing how our interests and hobbies, if put in Jesus's hands, can be transformed and multiplied into a life that serves meals with a message.  
Since that major TV exposure, more people started to wake up to the deeper understanding of the theology of food. Parents are realizing that a regular family meal does more good for children than any prestigious school or extracurricular activity.  
Social scientists have confirmed this commonsense practice as fact. Communities and even Fortune 500 companies have improved production and employee satisfaction by creating food experiences and family mealtime opportunities with their employees. Afterall, the word "company," from the Latin words cum (with) and panis (bread), implies how "companies" are "companions" who share their bread with each other, a.k.a. a family. 
CLICK HERE TO GET THE OPINION NEWSLETTER
During the 2020 pandemic, while my work travels and presentations to large groups came to a halt, I continued sharing the message and keeping countless numbers of people connected to each other through online prayer services and cooking demos.  
I even started a social enterprise in response to the need for safe and in-person community meals through the Plating Grace and Grub Food Truck. We serve delicious, award-winning food while also feeding the hungry and hiring people from the prison system and disadvantaged communities. We have a faith-to-fork mission, serving a meal with a message, reminding people that food has the power to save the world — one dinner at a time.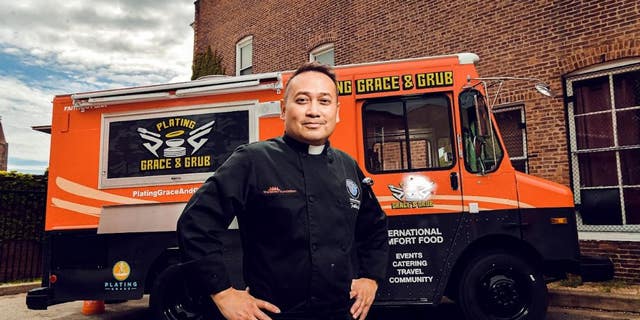 CLICK HERE TO GET THE FOX NEWS APP
If we take time and reflect on what we're eating, consider the deep connections that food creates, give thanks to God, and pray for people who go without, I firmly believe that we can change this world for the better.  
We can potentially become the saints that feed the hungry by becoming companions. It all starts when we can go on a "food retreat" and meditate on why Jesus gives himself to us as bread and wine. The theology of food reminds us that we become what we eat.   
Bon Appetit!