NEWYou can now listen to Fox News articles!
As Russia's barbaric assault on Ukraine begins its second year Friday, President Biden and Russian President Vladimir Putin clashed this week in a verbal sparring match with speeches marking the first anniversary of the war. While Biden continued his approach of shaming Putin into ending the war, issuing economic threats and offering more security aid to Kyiv, Putin shocked Washington with a nuclear warning, adding meat to previous warnings that the West must think twice this time before dismissing. 
During a surprise visit to Kyiv on Monday, Biden announced $500 million in security aid, in addition to the $196 billion that the United States has already provided or committed to Kyiv. The U.S. president, echoing the Pentagon's stated goals to "weaken" Russia militarily and economically, affirmed his administration's policy of "squeezing Russia's economic lifelines" through sanctions, threatening to ramp up the already "unprecedented costs" on Moscow.
Putin, a KGB-trained operative who prides himself in being an expert in people relations and being able to "feel" his audience, capitalized on Biden's threats by pushing his long-standing populist narrative that Russia is under assault by the West. "They want to make the [Russian] people suffer [with sanctions]" he warned during a speech that lasted almost two-hours. "We will react accordingly, because … we are talking about the existence of our country," He said. The more long-range systems are supplied to Ukraine by the West, the further we will push the threat from our borders," said Putin.
PUTIN ISSUES NUCLEAR WARNING TO US, THREATENS TO RESUME WEAPONS TESTS
In one of the most consequential speeches of his career, Putin announced a suspension of Russia's participation in the nuclear START treaty, which restricts the number of nuclear warheads on deployed missile launchers and strategic bombers for both Russia and Washington limits the number of delivery platforms, such as intercontinental ballistic missiles. This step allows Russia to beef up its nuclear arsenal. Additionally, it eliminates the inspection program, under which both Russian and U.S. specialists could visit each other's atomic facilities. Putin also warned that new strategic systems have been placed on combat duty and that Russia could resume nuclear testing, which Moscow has not done since 1990. 
Putin's plan for victory in Ukraine is to out-suffer and outlast the adversary, Russia's centuries-old wartime strategy. Culturally, Russia has a super high tolerance for casualties. It sacrificed 25 million of its citizens in World War II. Its current losses are estimated at 200,000 of killed or wounded. With Russia's population being more than three times Ukraine's, Putin is prepared to keep throwing bodies at the problem. Putin has mobilized an additional half a million troops since the war's start. Russian Defense Minister Shoigu recently announced a 30% increase the size of Russia's armed forces from 1.15 to 1.5 million by 2026.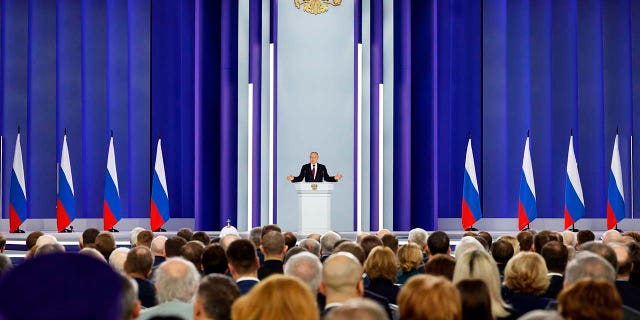 PUTIN'S PIVOT IN UKRAINE WILL BRING ABOUT PERMANENT WAR IN EUROPE
Putin is aware that Ukraine fatigue is setting in the U.S. Support among the public and politicians, especially some Republicans, for funding and arming Ukraine is not as strong as it once was. He also knows about the Pentagon's concerns about the depletion of U.S. weapons stockpiles, as result of significant outflows of weaponry to Ukraine, as China is becoming more belligerent with regard to Taiwan. These factors give Putin confidence that Russia could outlast Ukraine as his forces continue to exterminate Ukrainians and obliterate Ukraine's energy infrastructure, industrial base and agricultural foundation.
By pausing Russia's participation in the START treaty, Putin is signaling his preparedness to bring his nuclear weapons into play. In his speech on Tuesday, Putin's drew a direct link between the conflict in Ukraine and Russia's nuclear posture. Putin's verbal nuclear warning followed the implicit threat delivered by Russia's strategic bombers flying close to Alaska last week. In two separate incidents in a span of two days, the North American Aerospace Defense Command intercepted eight Russian warplanes, which included nuclear-capable bombers and fighter jets. 
CLICK HERE TO GET THE OPINION NEWSLETTER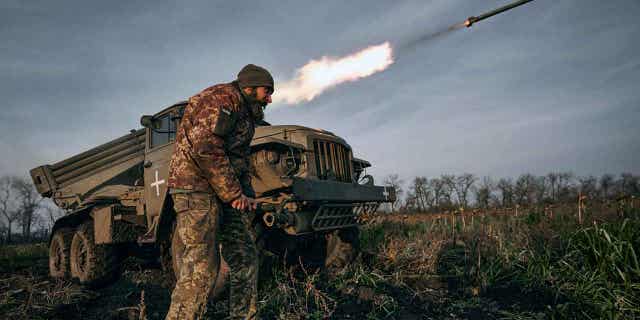 Putin's move to potentially dismantle the entire nuclear arms control regime on which the world has relied for decades for strategic stability is viewed by Western analysts as disproportionately escalatory. Washington hopes to contain the conflict in Ukraine, but Putin's regime does not see this as limited. Loss of war in Ukraine is unthinkable for Putin as it would mean NATO, an adversarial alliance, will end up in a hostile nation on Russia's doorstep.
The Kremlin takes Washington's stated goals of weakening Russia at face value. The West wants "to inflict a strategic defeat on us and sneak into our nuclear facilities," said Putin on Tuesday. Washington has been training the Ukrainian military in Western warfighting tactics since 2014. We have also been arming Kyiv with top-of-the-line high-tech weaponry for the past year, working to augment interoperability with NATO, and providing real-time intelligence and acquisition targeting to help Ukrainians. 
Putin believes that he faces a potential choice, if he cannot win the war of attrition, of either letting NATO bleed out Russia militarily and economically or using the nuclear card to flip the battlefield dynamics, stop the bleeding and prevent NATO's expansion into what Russia considers its strategic security perimeter. The risk of Putin using his nuclear card in Ukraine will increase as the conflict goes on and Moscow and Washington are climbing the escalation ladder. Expecting Putin to let Western arms flows hemorrhage Russia out is not rational.
CLICK HERE TO GET THE FOX NEWS APP
Putin does not want to use his nuclear card and Russia will almost certainly not launch a nuclear strike on the U.S. homeland, outside a direct U.S.-Russia military conflict. However, Russian military doctrine does envision tactical nuclear employment on the battlefield to halt an escalating conflict. The strategic disconnect between Moscow and Washington is that what Russia views as de-escalatory and defensive, NATO views as strategic escalation. Russian and U.S. leaders must understand, and soon, that their contradictory views and proxy war over Ukraine may well lead to a catastrophic outcome.
CLICK HERE TO READ MORE FROM REBEKAH KOFFLER