NEWYou can now listen to Fox News articles!
A few days ago, in the launch of her bid for the nation's highest office, former South Carolina Gov. Nikki Haley said she believed it was time for a generational change. Fair enough, and the truth be told, I suspect most Americans would agree. 
But beyond looking to a new generation, I think on this Presidents Day 2023 – this season in history also calls us to consider what other qualities are necessary if our nation is to propel itself out of what seems to be a chronic state of divisiveness, where the greater good seems to reside in the fast lane of decline, if not potentially gone altogether. 
This is one of the questions I posed in my book, "Witness to Dignity:  The Life and Faith of George H.W. and Barbara Bush."
Since the book's launch last November, I have now done dozens of interviews and podcasts and invariably someone asks, "Why did you write this book?" My answer has been the same – each time – to honor George and Barbara Bush, to lift up their personal faith, to lift up the Judeo-Christian faith – and then lastly – given the ongoing deep divides playing themselves out in the public squares of day to day life, invite the reader to consider the need to live in a different way.
'WITNESS TO DIGNITY': WHAT I EXPERIENCED AT BARBARA BUSH'S BEDSIDE IN HER FINAL DAYS
Since its establishment in 1885, Presidents Day has grown from the initial thrust to recognize just Presidents Washington and Lincoln, but to celebrate the achievements of all those who have held that office. 
This day, I personally celebrate not only President George H.W, but also first lady Barbara Bush – for all they did to provide a model of leadership that we desperately need to reclaim. 
With that brief preface, allow me to share some of the closing words of the book, which offer a tapestry of hope, a warning – and I think, a road map as we look to the 2024 election and beyond.
Toward the end of my homily from the pulpit in Washington, D.C., I referenced that many people in the public arena between the day of 41's death and burial began to say, "This is an end of an era." Instead, I suggested that that era does not have to end, and that perhaps the President's death is actually an invitation to fill the hole his death had left behind.
That was a late edition to the homily, after I had heard the quote a number of times—that the good old days of dignified leadership are gone.
GEORGE H.W. BUSH, 41ST PRESIDENT OF THE UNITED STATES, DEAD AT 94
There is no question, I think, that politics has always had the propensity to be nasty business. We have, it seems, grown accustomed to histrionic speeches that bear more of a resemblance to a grade school debate, than an intellectual exercise of revealing qualities of leadership and statesmanship. And we religious folk – folk like me, have gotten all too comfortable with candidates and elected leaders who live lives and speak in ways that in no way resemble what essential Judeo-Christian principles. And that is to our peril.
Not just the peril of our great nation – though I think that is true; but a peril to faith. For me, of course, that would mean the Christian faith.  But anytime a person of faith embraces and endorses brutality, obscenity and vulgarity as acceptable practices in the public square of politics, it weakens our witness to the world. 
There are increasing numbers of studies that reveal the droves of people who are abandoning organized religion, or spirituality altogether, because of the inability of adherents to faiths that have been on planet earth almost since the dawn of civilization – to uphold the most basic tenet of those faiths – to love one another. 
We are now in a season – in our world and culture, and yes – in the arenas of politics and the Church, when we hunger for those days that do seem altogether elusive.  We are nostalgic for a better day, but as I suggested at the beginning, that nostalgia is not just a reflection on "the good old days," but a desire to see them return.
BARBARA BUSH, FORMER FIRST LADY, DEAD AT 92
I would ask you, as you consider the current state of our nation's health, are we in the athletic arena of health and vitality or the ICU Ward headed toward Hospice? 
And an important question for people of faith to ask – right now, or at any time, is are we complicit in the decline of a culture, in the decay of a nation's health, when we abandon our central tenets of beliefs, ethics and morals by being caught up in the elusive web of the culture of personality, a corrupt ideology or a self-serving movement that only furthers division and distrust between God's children? 
I think the answer to all of those questions, to anyone who is intellectually and spiritually honest, is obvious.
CLICK HERE TO GET THE OPINION NEWSLETTER
Is there hope to turn things around?  Yes, of course, there is always hope.  As Martin Luther King, Jr. often preached, "We must accept finite disappointment, but we must never lose infinite hope." 
But we must do more than hope.  And what you hold in your hands provides a roadmap. 
The qualities of character, decency and integrity are not unattainable, nor should they be abandoned.
Take this volume to heart.  Consider, as you read, as you reflect and as you, as perhaps we all do, seek to deal with that ache about the way things are, and that desire to turn the tide that we can, not just long for better days, but see them return.
CLICK HERE TO GET THE FOX NEWS APP
George H.W. Bush and Barbara Bush did that – and in doing so, changed our nation, changed our world – changed all of our lives… for the better.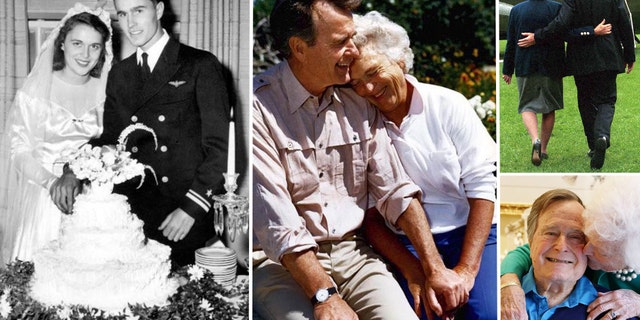 They were living points of light.  They showed us what it meant to serve and to love. They remind us now, of what it means, to live with dignity.
By God's grace, may we find our way there again… and again… and again.
CLICK HERE TO READ MORE FROM REV. DR. RUSSELL LEVENSON